The 4th of July is the perfect day for outdoor parties and barbecues…but you can still make healthy food choices! Whether you're hosting a get-together or going to a friend's house, here are some deliciously healthy and festive recipes that everyone is sure to love. And if you have time, squeeze in a cardio session or GroupX class in the morning before heading to the cookout.
Blueberry Caprese Salad
Instead of snacking on empty calories, like potato chips and pretzels, reach for a scoop of this patriotic salad. You'll get a boost of protein from the mozzarella, and fiber in the fruit will help satisfy your hunter. And if you need a dish to bring to a friend's cookout, this one comes together in 15 minutes! Get the recipe here.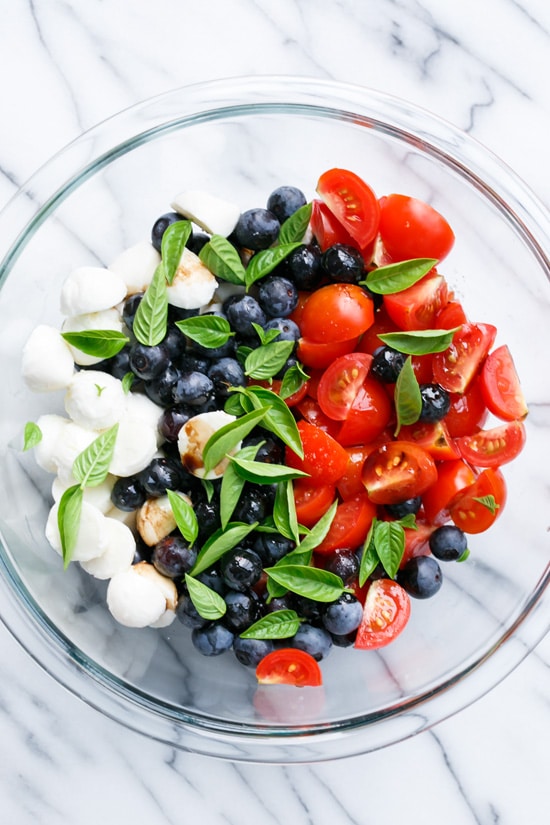 Patriotic Popcorn
Still craving something crunchy? Reach for a handful of this homemade popcorn, tossed with dried blueberries and cranberries, for a tasty sweet-and-salty snack. Get the recipe here.
American Flag Vegetable Tray
Berries and watermelon are healthy no-brainers for festive food, but one blogger used vegetables to create a super healthy (and cute!) snack tray for Independence Day. Use red veggies, like grape tomatoes, bell peppers, and radishes, and white ones, like cauliflower and peeled cucumber, to create a striped flag. Add blue food coloring to your favorite yogurt-based dip for a festive feast. Get the recipe here.
Fourth of July Fruit Salad
Fruit salad is a backyard party staple, and this recipe from Vegan Heaven mixes star-shaped pieces of melon and apples with red and blue berries for a totally festive take. This recipe also adds coconut flakes for a little extra flavor! Get the recipe here.
Mini Shortcake Cups
Keep your sweet tooth satisfied and your diet in check by choosing a pre-portioned treat. This recipe from Amanda's Cookin' uses store-bought angel food cake topped with lots of fresh berries and a dollop of whipped cream for an adorable dessert. Swap the whipped cream with Greek yogurt for a less fattening version! Get the recipe here.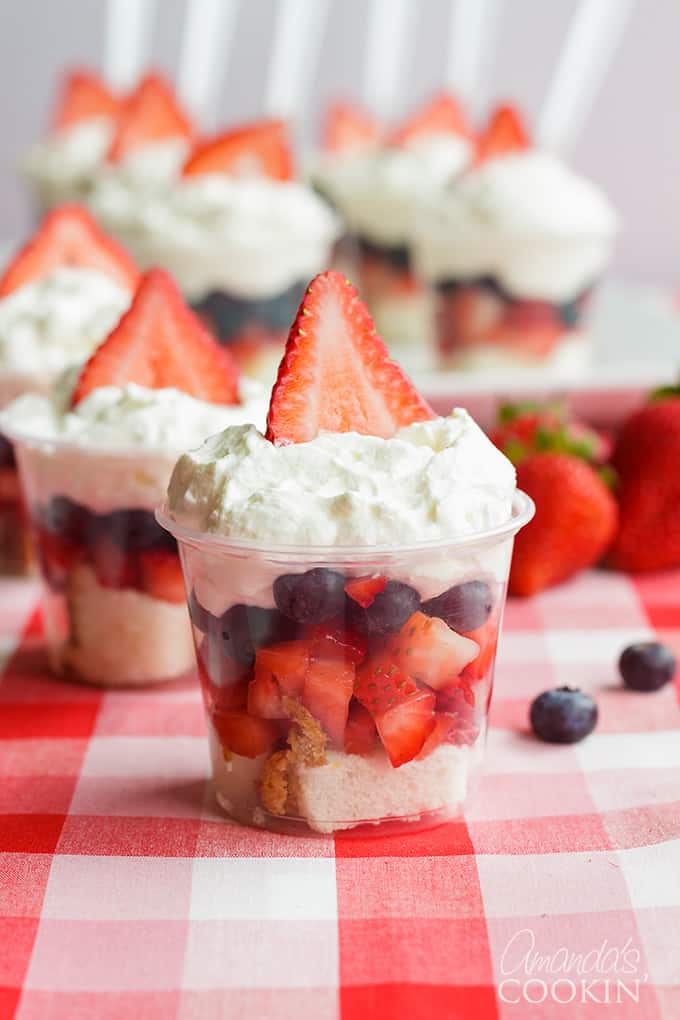 Flag Fruit Tart
Need something paleo or vegan? 40 Aprons has you covered. This dessert has a shortbread crust, almond filling, and coconut cream topping. Don't forget to decorate it with plenty of berries for a red, white, and blue finish! Get the recipe here.